Green Earth Enzyme
$54.00
For ALL Skin Types
Mask, Polish, Cleanser
Say goodbye to dry, lifeless and stressed skin.
Renew skin to its vibrant healthy self with cell renewal pumpkin enzymes and anti-oxidant rich Qasil with our brightening, exfoliating and cleansing treatment.  Through gentle exfoliation and purging your skin is brought back to life and can breath again.
It's time – give your dermis a break from the daily stressors and bring back it's shine!
After my first treatment my skin went from blah to looking brighter and smoother. My cheeks and forehead had that glow!  ~Kathi B.
Organic • Wild-Crafted • Cruelty-Free • Eco-Friendly • Non-Toxic
Share
Product Description
Your Trifecta! Mask, Polish, Cleanser
Your new best friend for a morning fresh complexion. Think of this as a vacation for your skin – relax while the potent botanical enzymes work to purge and firm without stripping skin of moisture.
The greatest threat to the integrity of our skin today are the millions of nanoparticles of air pollution that seep into our pores and accelerate our natural aging process by compromising our skin's natural barrier. It's up to us to gives our skin an extra hand when it comes to dealing with these environmental stressors.
That is where Green Earth Enzyme swoops in to save the day! Gentle Brazilian Green Clay and African Qasil leaves banish pollutants and free radicals to give you a clear glow. Pumpkin enzymes full of rich beta-carotene addresses dull skin while bamboo powder clears skin of dead cells uncovering healthy skin allowing your skincare serums to penetrate even deeper.
Here is why we chose these specific ingredients to bring you the perfect enzyme blend:
Brazilian Green Clay– an ultra-gentle clay that works to absorb pollution debris and excessive oils without sensitizing or drying out the skin.
Crushed Qasil – an East-African anti-bacterial leaf that is high in vitamin C and antioxidants and addresses the damage done by free radicals in the environment.
Moringa – has skin health boosting collagen protein. Helps prevent fine lines and blemishes.
Pumpkin– full of anti-oxidants to helps to reduce sun damage and promotes collagen production to improve skin elasticity.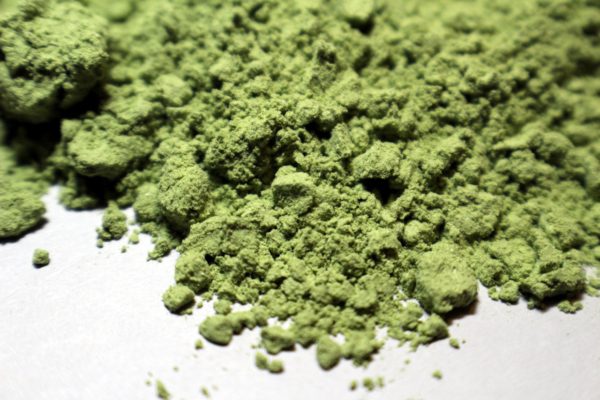 CRUSHED QASIL – Used for centuries by the Nomadic Somalia women. This unique foliage exfoliates, cleanses, refines and smooths skin addressing oily, dry and aging skin.
Ingredients
Green Earth Enzyme – 100% PLANT INGREDIENTS
Kaolin (Brazilian Green Clay)
Ziziphus Mauritiana (Qasil)
Bambusa Arundinacea (Bamboo)
Moringa oleifera (Moringa)
Cucurbita Pepo (Pumpkin)
Passiflora incarnate (Passionflower)
Eucalyptus Globulus (Eucalyptus)
Foeniculum Vulgare (Fennel)

How To Use
For Mask – mix with water (or any other desired liquid) to form a thin paste. Smooth paste all over your face avoiding eye area; relax until partially dry to fully dry. Once dry wet face to moisten mask and massage your face for 1 minute to exfoliate dead skin cells.
Partially dry mask can be done twice a week.  Letting mask fully dry should only be done once a week.
As a skin Polish/Exfoliator – May be use alone as a gentle exfoliant or cleanser. May also be used by mixing with our Chamomilla Cleansing Oil and massaging for 1 minute. For a gentle exfoliation use your fingerstips for a deeper exfoliation use a cloth.
Learn with LouLei:
Dehydrated and blemish prone skin – mix with vinegar or either of our hydrosols if using as a mask or with a few drops of our Ethereal Nectar as a polish.
Parched and mature skin – mix with honey or our lavender rose hydrosol if using as a mask or with a few drops of our Enchanting Nectar as a polish.
We use fresh phyto-active botanicals  •  12 month shelf life unrefrigerated, longer if refrigerated. Please be careful to not get water into the jar of Green Earth Enzyme.